Afternoon everyone, I haven't done one of these in a while and thought well, why not?! 🙂 Christmas has come sooner than expected this year, or perhaps that's my age hanging out. So today I'm going to share 5 of my Christmas favorites, these rarely change from year to year. Here goes….
1) Christmas Music
Give me some of those old classics from way back when….my personal favorite being Dean Martin! Listening to this music reminds me a lot of my Memaw. She would always have the record player going(and later on the CD player). The TV wasn't allowed to be on at all Christmas Day. She wanted us to enjoy being together, making those memories and celebrating together the most wonderful time of the year! And the tv stays off here at our house on Christmas Day, we all sit around talking, making memories, sipping on egg nog and munching on holiday goodies. Remembering those who have already gone on ahead of us, the good times we shared with them while embracing the new ones. It's amazing what a little song can do 🙂
2) Houses Decorated on the Outside
I'm not finicky, if your house is decorated for Christmas then I am in love! Pretty easy to please in that respect. Fewer and fewer people actually decorate the outside of their houses. We have never done it, mostly because of a lack of funds, but I do admire those who take the time to string up some lights on their house! Driving through neighborhoods to see the lights is a favorite of mine, it just brings back that feeling of "ahhhh, Christmastime is here".
3) Ugly Sweaters
Yes, I am an ugly sweater fan! It brings back fun memories of my public school teachers who would wear these fun festive sweaters in December, with their little gold slip on shoes, poofy hair with frosted tips, and gaudy jingle bell jewelry! We'd have room mother's bring in cupcakes, chips, and koolaid for homeroom parties, get a gift from our teacher and spend the rest of the time on a sugar high of epic proportions! Ugly sweaters get mocked frequently but to me I smile when I see one at its holiday cheer 🙂 If you're tired of having an ugly Christmas sweater, I'll give a good home!
4) Christmas Eve Finger Foods
Alright, what kind of blog would this be if I didn't bring food into the mix?! Seriously I love our Christmas Eve snack food! It's been something that my family has always done. We pull out a few cookies, the smoke summer sausage with cheese and crackers, boiled shrimp, a cheese ball, and a Claxton's fruit cake(you know the kind that weighs a ton that no one wants to eat…my Granddad Jones would send one every year, a little something to let us know he was thinking of us and last year in memory of him I bought one for my Dad's stocking. We all took a piece and ate it to commemorate Granddad Jones). Serve it all with my Mom's hot apple cider, egg nog, and have some instrumental Christmas music playing in the background. 
5) Christmas Coloring Books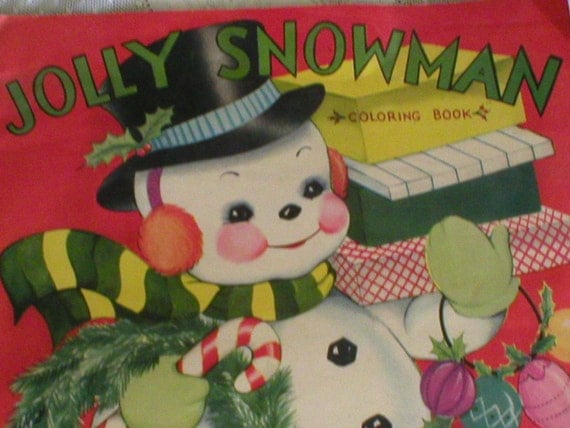 Don't deny it, when you were a kid you would colors for hours and show everyone each page you did! My Memaw always had crayons and coloring books where us grandkids could find them. It was the first thing I'd pull out as soon as we'd arrive. Sit at the coffee table and color until my hand was ready to fall off! A bit exaggeration but you get the idea 😉 Every time I see a vintage Christmas coloring book I am thrown back to when I was little girl and simpler times!
Yes, those were the days folks. But they are not forgotten nor replaced. A smell, a sound, or seeing something from back then can bring it all back! Cherish your memories, your loved ones, and enjoy this holiday season! From my family to yours, Merry Christmas and Happy New Year!!!